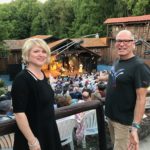 Robby Henson and Heather Henson were presented with the Arts Commission's 2019 Arts Citizens of the Year Award on January 13th at the Danville City Commission meeting at City Hall.  Robby and Heather were selected for their outstanding work in their individual artistic fields as well as their work at the Pioneer Playhouse in Danville.  Robby is a film director, writer and founder of the Voices Inside program at Northpoint .  He also is on the faculty at the University of Kentucky, teaching screenwriting and directing.  Robby has made Danville is fulltime home as he develops plays and directs at the Playhouse as the Artistic Director.
Heather Henson is an award winning book writer focusing primarily on children and young adults.  Most of her themes are based around Kentucky stories and people.  Heather, too, has made Danville her home where she is now Managing Director of the Playhouse working with Robby and their mother Charlotte to continue the operation of the Playhouse now entering its 71st season.  Charlotte was named Arts Citizen of the Year in 2006.
Robby and Heather were presented with awards designed and created by local glass artist Roni Gilpin and with City Proclamations recognizing their accomplishments.
Robby, Charlotte and Heather Henson