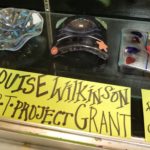 The Louise Wilkinson Grant project provides funding to local high school art programs to explore mediums which would otherwise be unavailable to a large number of students due to cost.
For information on applying for funds, contact the Arts Commission at arts@historicdanvilleky.com.
Grants awarded in the past have been for pour paint projects, fiber art materials and slump glass.
Projects which incorporate "found" materials, repurposed, and recycled materials are encouraged.
Information to include in application:
Description of project including artistic process(es) taught
Ages and numbers of students engaged.
Timeline of project
Materials list and source(es)
Detailed budget
Please submit all information and any other details you wish the committee to consider to:
Mimi Becker
arts@historicdanvilleky.com
For information on contributing to this fund, contact the Arts Commission.