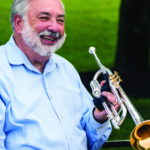 The Arts Commission has named Vince DiMartino the 2018 Arts Citizen of the Year.  DiMartino will be presented with the award on January 9, 2019 at the Annual General Meeting of the Arts Commission at 5:30 at McKinney Conference Center at Constitution Square.  The public is invited to attend the presentation and reception.
The Award recognizes an individual, or individuals, who have distinguished themselves in their artistic career often beyond the local area.  DiMartino is not only an internationally noted performer, but through his work has been instrumental in bringing top performers to Danville and has fostered the development of numerous young musicians while serving on the faculty at Centre College.
While he has performed and lectured the world over, he still finds time to share his talents in Danville through dedicated involvement with the Brass Band Festival, solo performances and with guest artists at special events.
In his spare time, DeMartino serves on the Danville/Boyle County Planning and Zoning Board.